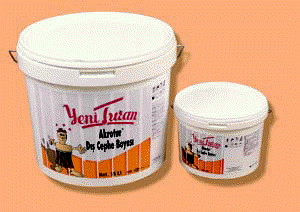 Akrotur ACRYLIC EXTERIOR PAINT
Type:
A water based acrylic polimer system devoloped for decoration and protection of surfaces.
Propeties:
It builds a thin film on the aplied surface which prevents the surface from water and friction.
Places to use:
Akrotur is highly resistive aginst air polutions and atmospheric conditions such as rain, sea water and snow. It is vapour permeable with high alkali resistent.
Aplication:
Akrotur must be applied over the surface which is free from dirt, lubricant, and old paint residues. To improve adherence and to decrease absorbtion of the surface, Akrobinder is recomended as a primer. 2-3 coats of akrobinder must be applied on the prepared surface. After 24 hours apply first coat of Akrotur with brush or roller. Second coat must be applied after 2 hours.
Thinning:
Thin 30% with water.
Drying time:
(25 C˚) dries between ½-1 hour.
Through drying time is 24 hours.
Covarege:
Aproximately, 10 m² with 1 lt at 28±5 micron dry film for one coat.
Storage:
Prevent from freezing.
Use the product over +5 C˚.
| | | |
| --- | --- | --- |
| Packaging: | 2.200 LT | 15.000 LT |