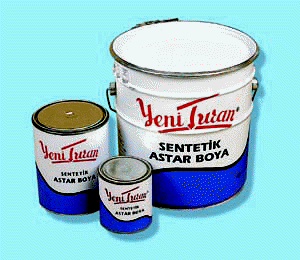 YENI TURAN Synthetic primer paint
Type:
An alkyd based primer.
Properties:
It has high covering capacity. It adheres very strongly to surfaces and dries quickly.
Aplication:
The surfaces must be clean before aplication with brush, roller or spray gun. It applies one coat.
Thining:
Thins with Yeni Turan Synthetic Thinner or Synthetic Neft with 10-15% .
Drying Time:
Dust free : 2 hours
Touch : 5-6 hours
Hard : 18 hours
Covarage:
With 1 lt 15-25 m² according to surface, for one coat.
Flame point: 45˚C
| | | | |
| --- | --- | --- | --- |
| Packaging: | 0.700 LT | 2.500 LT | 15.000 LT |